Hi all, my name is Pattra. I am a software engineer by day and amateur artist by night. For a long time I've doodled and a dabbled, but until now I never really spent much time creating artwork.
On January 1, 2018, I decided that in order to seriously improve, I needed to commit to more practice. 10,000 hours to become a master and all that. So I made a goal: draw everyday for 365 days and post the results daily on social media. This post is a summary of my experience and includes some selected works that I thought were worth sharing.
Disclaimer: it's been a whole year, so I wrote a whole lot. If you want just the summary-by-pictures, check out the highlights section!
Table of Contents
My artistic background/lack thereof.
Getting back into drawing after 15+ years of no practice.
Why I decided to do this in the first place.
Questions I've answered over the course of the year.
A selection of some of my favorite, least favorite, and most middling pieces from the year.
The actual beginning
When I was a kid, I wanted to grow up to be an artist. Whatever that really entailed, I had no idea, but my mother's complaints about me bringing home pictures of rainbows everyday from kindergarten weren't going to stop me. Puberty-induced self-consciousness certainly would, though.
At some point around 6th or 7th grade, I noticed (and/or realized?) that a couple of my classmates were way better at drawing than I was. When comparing skill, I wasn't even close to their ballpark. I wasn't even in the bleachers; I was busy faffing around at the kiddie pool across town wondering where everyone else was.
Upon seeing their work and their continued improvement, some part of my lazy pre-teen brain got set off and I thought to myself, fine. I guess I'm not as good an artist as I thought I was. In fact, maybe art and drawing aren't my thing. Were never my thing. I'll just leave that to people who are actually talented.
I was convinced that these kids had hit some kind of genetic jackpot, and just had something that I couldn't control or have—innate, A grade, all-natural talent. And that discouraged me. So I gave up, and resigned myself to margin-of-the-notebook doodles for the rest of my pre-college art career.
Well, one of the ~1,000,000,000 things I didn't realize when I was 13 is that these kids maybe started out pretty good, but they didn't become amazing just because they were lucky enough to be "blessed" with talent or whatever. We all made roughly the same quality scribbles when we were 4 or 5—but the reason our skills had diverged so much since then was because they actually applied themselves and practiced often, whereas I just took out a chunk of printer paper every other weekend, dabbled around, and then somehow expected to be just as good. I didn't see the work that went into their skill—I just saw the results.
Pallet Town
Fast forward to around 2015, I was living in Seattle and hadn't really thought much about art since taking a single introductory drawing class in college. I guess I had a bougie Moleskine that I doodled in sometimes, and that was about it. But of all of the god-knows-how-embarrassing things that could set me off, it was this: I attended PAX Prime that year and played a demo of none other than Pokémon Art Academy for Nintendo 3DS.
For those of you who are unfamiliar with the title, Pokémon Art Academy is a game where you are literally given a bunch of step-by-step tutorials on how to draw and color Pokémon. They give you a bunch of different brushes, have you try out different styles, and you can do it all just with the stylus and the secondary screen of the 3DS.
Oh, they got me hook, line, and sinker at that demo booth.
I went straight home, got on Amazon, saw that the game wasn't even out yet, complained to my roommate loudly for about 5 minutes, then pre-ordered and waited for however many weeks.
My hype was unspeakable. Once it arrived, I dove right in.
I was a grown, employed, bill-paying adult and fully enthralled. Loved that game. And I was really impressed with some of the things I churned out from it! In fact, I started to think to myself: damn. Not trying to get too crazy here. But maybe I should consider drawing more than just Pokémon.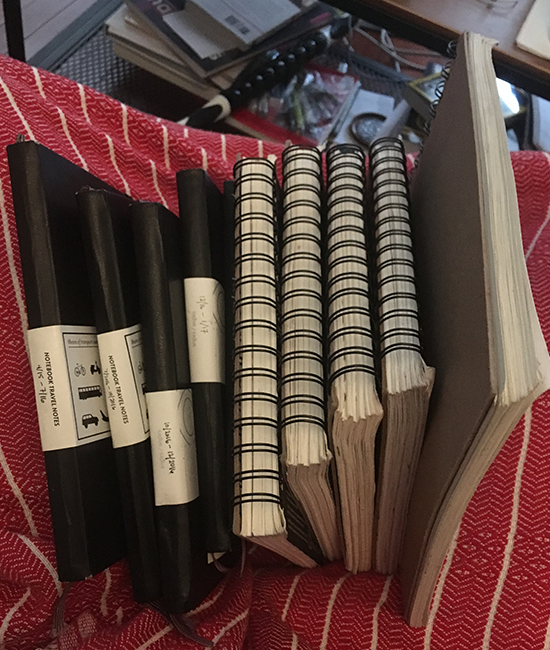 "Art Academy" aftermath. Here's a snap including some of my sketchbooks from 2015-2018. You may notice that around February 2017 I ceased to pay the fancy-pants premium.